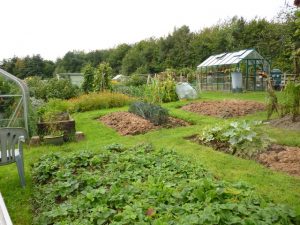 Bishop's Castle has a thriving allotment community who garden the Council owned plots on the Love Lane / Business Park site.
The Town Council allotments were opened in 2007 on land leased from Shropshire Council.  The land is part of a large area, which includes the Business Park, on the east of the A 488 on the outskirts of the town. In 2016 the allotment site was increased by the addition of several new plots, bunkers, and hard standing areas, created to meet demand, on the former bike track site.
There are 42 allotments, a mixture of full sized, half sized and quarter sized plots, surrounded by rabbit proof fence.  The allotments are only accessible via a gate through a track off Love Lane.  Water is laid on and the Town Council is responsible for paying the water bills and maintaining the outer fence.
The Annual Rent is very reasonable, currently at £50 (September 2016) for a full sized plot measuring approximately 15 by 11 metres, giving you a generous 165 square metres. Half sized plots are currently £30 per annum, quarter sized plots are £15. Prices are for Bishop's Castle parish residents.
Plot holders sign a Tenancy Agreement, and are asked to garden organically. There is an active Allotment Society formed by the plot holders with a committee drawn from members and for a modest membership fee you are entitled to a share of the manure and other products the Society buys in, and can have your say at the Society's meetings.
Interested persons should contact the Town Council:
Telephone: 01588 638141
Email: assistantclerk@bishopscastle.gov.uk or townclerk@bishopscastle.gov.uk
In person: call into the council office in the Town Hall, Bishop's Castle during office hours 9.30am to 12.30pm, Monday to Thursday
Letter: write to Bishop's Castle Town Council, Town Hall, High Street, Bishop's Castle, SY9 5BG. Please title your enquiry "Allotments".
Preference will be given to Bishop's Castle parish residents, on a first come first served basis. Those outside the parish will only be offered a plot where there is no demand expressed by any resident.