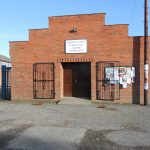 The public hall can be booked by email to publichallsy9@gmail.com or by telephoning 07949714959
The cost for hiring will be £25 per hour.
Hiring conditions on request.
If you wish to book the underground please do so via the email or telphone number above .
Currently the Town Council is trying to form a New Committee to oversee the running and possible redevelopment of the Hall. If you wish to become involved please contact the Clerk on 01588 638141 or by email.
There is a Meeting being held on 27th February at 7.30pm in the Hall to update on developements